Dr. Melanie Matheu, founder of Prellis Biologics, receives the 2023 VIB Alumni Award
"Turning an idea into reality is an immensely rewarding experience"
May 11, 2023

On to its fourth edition, the VIB Alumni Award recognizes members of the VIB community who have gone on to make an extraordinary impact on society. Dr. Melanie Matheu definitely meets that description: after a PhD and two postdocs at UC Irvine, VIB, and UCSF, she founded Prellis, a startup developing ultrafast technology for high-resolution 3D bioprinting. In response to the COVID-19 pandemic, the company put its full weight into developing human SARS-CoV-2 antibodies using their EXIS™ platform to create lymph node organoids. ​ 
Melanie Matheu has a PhD in Physiology and Biophysics, focused on 2-photon imaging of immune responses. During her postdoctoral training at VIB, in the lab of Bart Lambrecht, and later at UCSF, the idea of starting her own company focused on laser-based bioprinting started budding in her mind. ​ 
"As a scientist, I was always very frustrated by the limitations of the model and technology when trying to fully understand a given problem or process. I knew that if we would have the means to engineer organs and tissues, we would be able to do incredibly meaningful work that could affect the lives of so many." 
When Matheu got the offer to lead the immune branch for an innovative new company, it seemed like the ideal opportunity to make the jump from academia to the start-up world. "I had this idea to start a company and figured I should probably work for one before I start my own," explains Matheu. But before she even had a chance to say yes, Matheu also received the message that she had been selected for a big research grant that would basically allow her to start her own group as an independent researcher. 
"I agonized over what to do and called every professor I had ever worked with for advice." As an avid ultra-runner she put on her running shoes hoping some deep exercise would clear her mind, but even that didn't help her get to a decision. In the end, she thought 'I can always go back to academia if I want to' and made the jump. ​ 
A few months later, the startup failed. But Matheu put everything she learned into practice, seized the moment, and went after her own innovative idea.
Founding Prellis 
In 2016 she founded Prellis, a company developing high-resolution laser-based 3D bioprinting methods, to match actual human tissue. ​ 
The mission was clear, but getting funding for a company turned out to be very different from grant writing. Luckily, Matheu could draw on what she had learned working for an angel investor whom she had met years before, when she was still in high school and working as a lifeguard at a local swimming club. Already totally fascinated with science, Matheu jumped at the opportunity to do some literature research and would continue to consult for the investor throughout her PhD and postdoc. ​ 
"The experience gave me a little glimpse into the venture capitalist world. I had seen other companies pitch, I knew what investors were looking for, and this gave me the confidence to step outside of academia and say 'Hey, I have this idea and I think it could work'." 
"I am deeply honored to receive this award. It reminds me of the importance of true incubator spaces, where ideas can grow and people gain confidence to do new things. VIB has definitely been that type of environment for me." 
All about speed and flexibility 
"What's unique about what we do at Prellis is that our technology is 8,000 times faster than that of our nearest competitor. What would take another company a year to print, we can do in minutes." 
Prellis has developed expertise in lots of different human tissues, building larger and larger organ scaffolds. While the company initially focused on the kidney and liver, the arrival of COVID-19 caused the team to abruptly pivot toward the immune system. 
"I'll never forget the day it all happened," says Matheu. "We were having our Monday meeting with the entire team when the person in charge of our HR comes in and tells us everything is shut down." 
Matheu quickly realized the immediate needs across the globe changed completely and went back to some of the company's earlier work. As part of their proof-of-concept data when initiating Prellis they had printed human lymph node organoids. Could they use these to develop antibodies against the new virus? 
"We really switched our entire focus in a week," says Matheu, who asked every member of the team if they were comfortable to turn everything around and go after SARS-CoV-2. "Luckily no one left," she smiles. 
The best of both worlds 
After making several SARS-CoV-2 antibodies, the team started going after other infectious diseases, including influenza and Marburg. "The antibody therapeutics market is huge. We can deliver therapeutic human antibodies in less than three weeks, without the need for animals." 
Eliminating the need for animals to develop antibodies sounds like a worthy mission in and of itself, but doesn't seem to be Prellis' main focus. ​ 
"We are really excited about the fact that our platform reduces animal use," says Matheu. "But the fact is that above all, our printed tissue really provides a better model to study human disease. The product is better, the technology is cheaper and you remove animals from the equation. It's a win-win-win!" 
The VIB alumni award selection committee lauded the innovative potential of Prellis Biologics and its success in collecting venture capital. "Starting a successful company in the US is a very strong achievement," writes the committee. "Prellis already has a first commercialized product, while the company was only founded in 2016."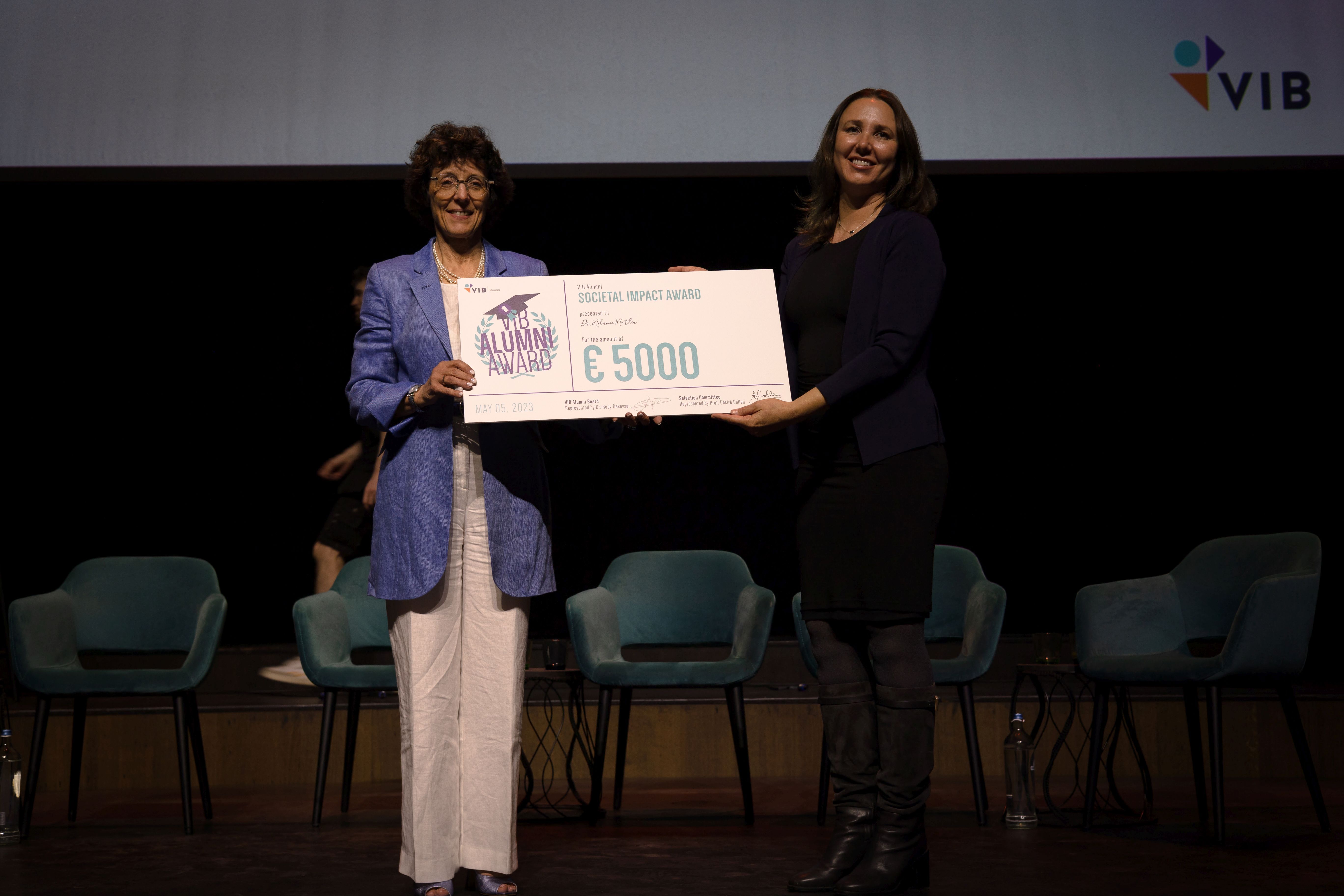 On crossing the ocean 
Matheu's VIB adventure started a little over a decade ago, when a meeting with Bart Lambrecht at a conference in Colorado kicked off a chain of events leading to Matheu crossing the ocean for a postdoc in Ghent. ​ 
"I happened to be working on dendritic cells and influenza at the time and was presenting a poster at a Keystone meeting. Bart [Lambrecht] came to talk to me right before he had to leave to catch his plane, but in this very first conversation we agreed I would apply for a fellowship and that eventually ended up with me joining his lab." ​ 
The people and the atmosphere in Lambrecht's lab made a big impression on Matheu. "I got to work with incredibly brilliant people--dedicated, hard-working, and very smart scientists. I remember a lot of really collaborative ideas and phenomenal discussions at the cutting-edge of research." 
She holds fond memories of convincing others to allow her to work at the machine shop, where she would work closely with the technicians on specific holders, bypassing the language barrier with a lot of pointing and drawing. "For me, this was truly a joy. Everyone was very warm and welcoming to me." 
Meanwhile, Matheu's family was back in California. If it wasn't for them, she admits the beautiful cities, great food, and culture could easily have made her stay in Belgium. In that alternate reality, she probably would have ended up founding Prellis Biologics here. "Bart Lambrecht is very entrepreneurial and definitely helped light the spark. I am quite certain starting up my biotech company would have worked here in Belgium as well. The environment would definitely have been supportive." 
The importance of nurturing ideas 
Mathieu was amazed when she heard she had won the 2023 VIB alumni award. "I had no idea I was nominated, so the award came as a total surprise. Of course, I am deeply honored to be this year's awardee." 
Above all, Mathieu is grateful for the opportunities VIB provided her. "This award reminds me of the importance of true incubator spaces, where ideas can grow and people gain confidence to do new things. VIB has definitely been that type of environment for me." 
When asked what has been the most rewarding aspect of her professional journey so far she mentions the experience of turning an idea into reality. "The startup world is very tough. Whether or not you are good at something, you still need to get it done. There are so many ways for a good company to die." 
Today Prellis has a huge lab space and more than 30 people on its payroll. "It is so rewarding to go from 'I think it will work' to seeing your idea actually at work. It still kind of takes my breath away." 
---