Tapping into the expertise of two labs
VIB postdoc Teun Klein Gunnewiek divides his time between Leuven and Antwerp
May 13, 2022

Meet Teun Klein Gunnewiek, postdoc at both the VIB-KU Leuven Center for Brain & Disease and the VIB-UAntwerp Center for Molecular Neurology. He recently secured a very competitive Marie Sklodowska-Curie Actions postdoc fellowship, so we were eager to learn more about his research across two labs, two centers, and two cities.
If it hadn't been for covid-19, Teun would be doing research down under in Adelaide right now. Early 2020, his new position was all set, he had cleared out his flat and already packed his bags, when suddenly Australia closed its borders—preventing the international spread of the coronavirus, but unfortunately also of bright ideas and research talent.
But as the saying goes: when doors close, new ones open. Teun found a cool opportunity much closer to his native The Netherlands.
"I saw a postdoc opportunity advertised to explore microglia-synapse interactions in the teams of Joris de Wit and Renzo Mancuso," says Teun, who had at the time just completed his PhD in Nijmegen.
"My PhD focused on an iPSC-derived neuronal model to study the role of disease-linked mitochondrial DNA mutations in neuronal development. After six years, I was looking for a fresh perspective, so the switch from neuronal development to neurodegeneration immediately attracted me. Of course, I did have a lot of experience in working with iPSCs, which was a real plus."
"The aim of my research project is to see whether microglia interact differently with synapses in the context of Alzheimer's disease. Various Alzheimer's risk genes are either highly expressed or directly linked to microglia, and while microglia can clear amyloid-beta aggregates, they also degrade neurons and synapses. Given that abnormal microglial function is linked to various neurodegenerative diseases, my work will hopefully provide valuable fundamental knowledge on microglial-synapse interactions and could identify potential new therapeutic targets for Alzheimer's."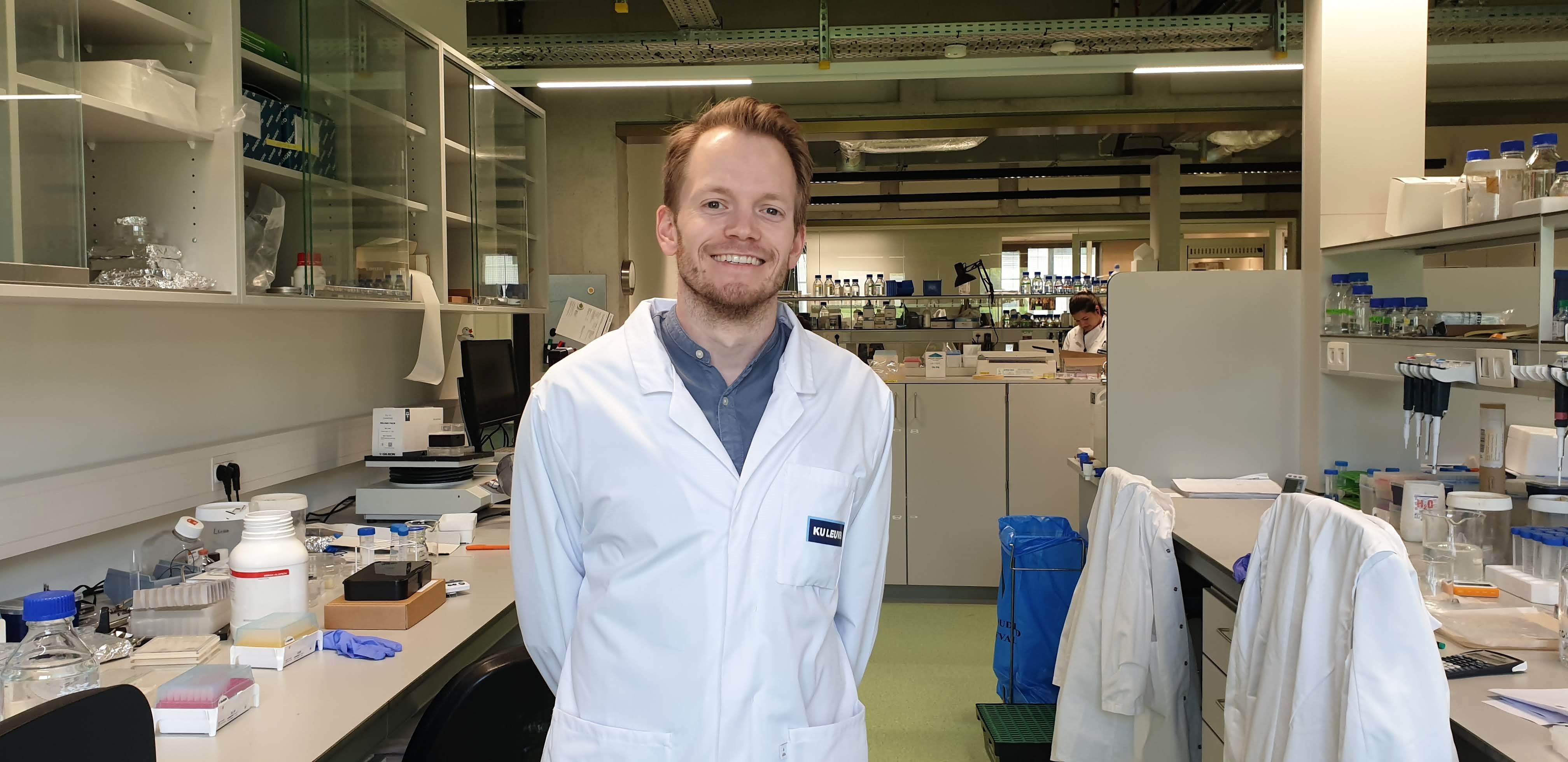 Not bad for a plan B, although Belgium isn't quite Australia. "At least I still went South," laughs Teun. "And there is nothing like a pandemic to make you realize the benefits of living closer to home."
"No in all seriousness, I am glad it all worked out so well. I had spoken to Joris de Wit only once before, as he was a jury member at the defense of one of my friends, but when I told my PhD supervisor about the postdoc opportunity at VIB, he immediately confirmed it would be a great environment for my postdoc research."
The new postdoc would be a package deal: part Leuven, part Antwerp. So far, Teun spent most of his time in Leuven. "I have been primarily doing viral engineering for proximity labeling using TurboID—to tag, extract and identify proteins at the microglia-synapse interaction site—which I did in the de Wit lab, where there is a lot of expertise in using these techniques to study structural interactions at the synapse (check out news on earlier work here, here and here). I'd say I probably spent about 90% of my time in Leuven up to now."
As a few of his new constructs seem to be working well now, he expects the share of his time spent in Antwerp will rapidly increase. "The Mancuso lab has all the expertise on transplanting human microglia into mice, to study these cells in a live working brain (read more here and here). This will be key to studying the interactions between microglia and neuronal synapses in a human-relevant context, within a (mouse) brain affected by Alzheimer's disease."
Conducting research in two different labs, in two different cities no less, and with two PIs might seem daunting to some, but Teun sees mostly advantages.
"I really like the 'split nature' of the project. You can tap into different sets of expertise in both labs, which really has added value for this particular research project."
He also sees a difference in culture and lab dynamics: "The de Wit lab is already quite well established, getting close to its 10th anniversary. There is a lot of expertise and technologies that are up and running. The Mancuso lab is still relatively new, and the group is also a bit smaller, which gives a very different dynamic. Everyone is setting up or in the early phases of their research project, which also means everyone is very vested in helping each other out. Working in a big or small group each has its advantages and I feel like I have the best of both worlds."
The one challenge is of a practical nature, according to Teun. Since he can't be in two places at once, it takes some effort to organize experiments efficiently. But then again, doesn't it always?
Having two bosses sounds like a complication too. Not so in the case of Joris and Renzo, says Teun. "We always meet with the three of us present, in person or online. I must say it has been really collaborative working together this way; both PIs are on the same page. It helps that the project was always conceived and set up this way. I feel like both of them started this joint endeavor well prepared and they have a good understanding of each other's strengths."
Two sets of eyes are better than one, but three seems to be the charm. "If you look at a problem with three people, you always have a broader view compared to only two. You automatically avoid certain blind spots."
All in all, plan B turned out great, and Teun would definitely recommend others to join VIB for their postdoc. The big advantage, as he can testify, is the strength of the research community across different campuses. "There is so much expertise within reach in the broader VIB community, from the core facilities to the many different research groups, and a lot of time and effort is invested into stimulating such interactions."
This energy is also evident even at the local level, where happy hours and social gatherings are starting to flourish again now covid measures are slowly lifting.
"What's so great about VIB for an early career researcher is that if you want to do or accomplish something, you probably can find a way. There are much fewer hurdles and roadblocks compared to at other, sometimes smaller, research communities."
Receiving an MSCA fellowship almost a year into the project has also provided an important boost. "You know, before, I wasn't 100% sure if I even wanted to do a postdoc, but I didn't want to close any doors just yet, and thought I'd see how I liked doing research without the PhD dissertation as a goal in and of itself."
"So far, I find life as a postdoc a bit more relaxed than life as a PhD student. In a way, you have less to prove. You are as experienced as a final year PhD student, but you don't have this constant worry about writing your thesis. Now with the MSCA grant, I have another two years of funding to devote myself to my research project and that freedom feels really great."