To the Core of the matter
The strengths of the VIB Nanobody & Protein Cores
March 30, 2023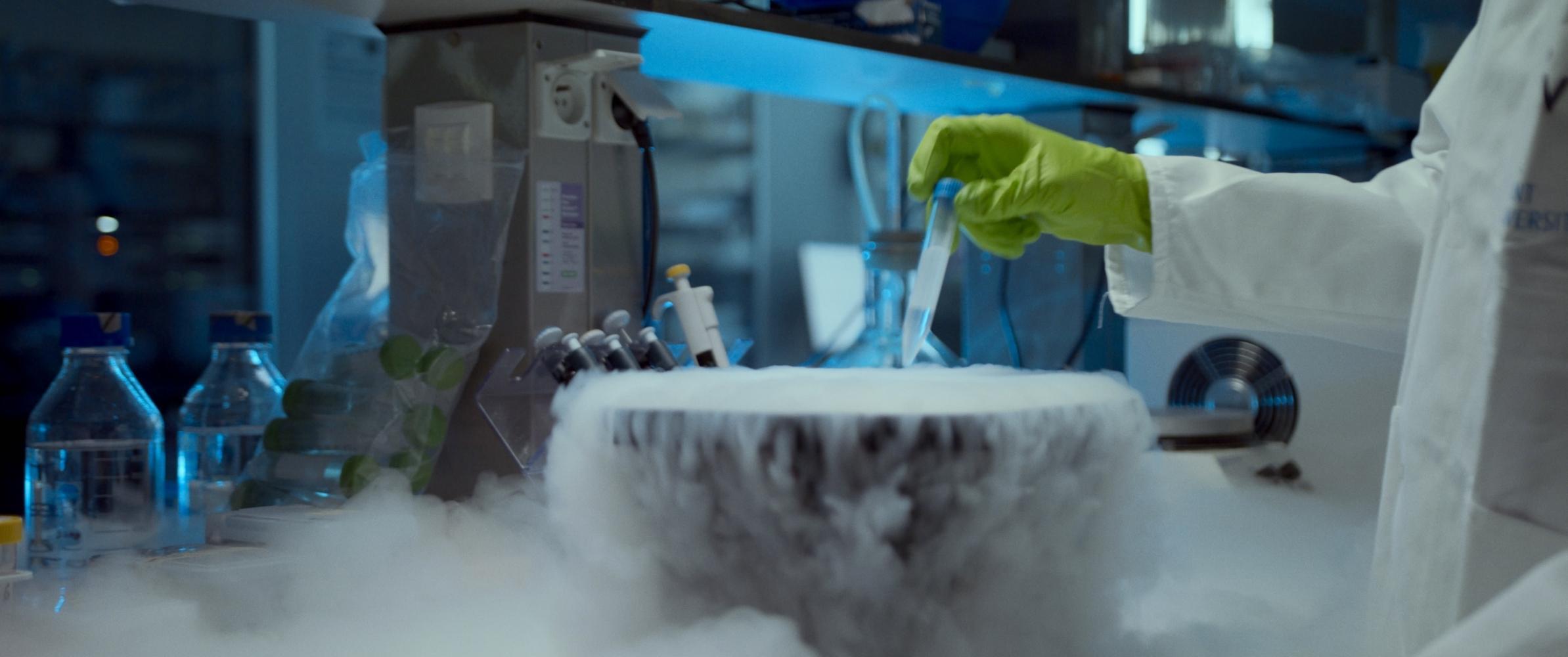 To get to the heart of biology, we need to zoom in. Beyond tissues, beyond cells, down to the level of proteins. These proteins are the tools, encoded in our genome, that make life work. Advances in life sciences research now allow us to refine these tools for our own purposes. This is what the VIB Nanobody and Protein Cores do. These two Core facilities stand out from the others by offering "production-based" molecular services. Their extensive experience and state-of-the-art technology allow them to produce their respective, often protein-based, products efficiently. Their close partnership allows them to build on each other's work, which makes them both prominent players in the field of applied and basic protein biology.
At the heart of Nanobody discovery and research
The discovery of Nanobodies® is a significant development in the field of academic research and industry, and it is a story that can be traced back to 1993. Back then, Professor Raymond Hamers and Professor Serge Muyldermans, two VIB researchers at VUB, discovered a new type of antibody in camelids that only consisted of a heavy chain – instead of a heavy chain and a light chain as in conventional antibodies. They designated the camelid antibodies, which do not have a light chain, as "camelid heavy-chain antibodies". Nanobodies or VHHs are the antigen-binding domains of the camelid heavy-chain antibodies. Further research demonstrated that Nanobodies outperform antibody fragments derived from conventional antibodies in terms of immunogenicity, stability, and solubility, making them highly interesting proteins for research and industry.
The VIB Nanobody Service Facility was founded in 2005 by the Muyldermans lab, which had an international reputation in the field. In 2014, the VIB Nanobody Service Facility was renamed the VIB Nanobody Core and opened up its services to external users, including pharmaceutical and biotech companies. The Nanobody Core, based in Brussels, offers a wide range of services, including camelids immunization for Nanobody generation, engineering, and in-depth characterization.
The Nanobody Core is led by Reza Hassanzadeh, who has been part of the facility since its inception. "Our mission is to be at the forefront of Nanobody discovery and research and provide customized Nanobodies for therapeutics, diagnostics, animal and crop protection, and research tools," says Reza.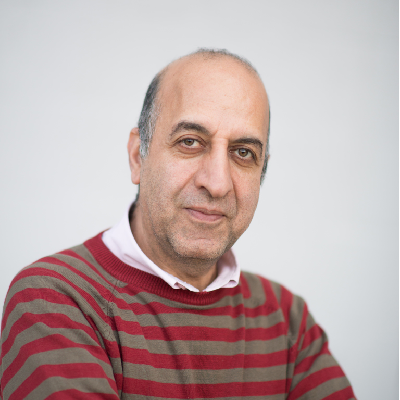 "With more than 30 years of dedicated research and knowledge, our exceptional team has provided valuable services to academia and industry for nearly two decades. It's safe to say that we are a premier reference center you can rely on - a true authority in our field!" - Reza Hassanzadeh, Head of VIB Nanobody Core
These are not empty words. VIB and its Nanobody Core have made substantial contributions to the field, having been cited in over 400 Nanobody-related peer-reviewed publications and 123 patents. In addition, their efforts have led to the creation of multiple biotech companies.
Providing the building blocks of life
Proteins are the building blocks of life. Therefore, understanding their structure, function, and behavior is essential to advance our knowledge of biology and develop new therapeutics. Researchers and industry partners can count on the VIB Protein Core to produce the specific proteins they need. This is important because proteins can be difficult to obtain in large quantities from natural sources, and they may not be available in the specific form or concentration required for a particular study. The Protein Core's production techniques allow scientists to overcome these limitations by producing recombinant proteins in a controlled and scalable manner.
The Protein Core, founded in 2008 and based in Ghent, has extensive experience in microbial and cell cultures, downstream processing, and purification of biologicals. The Core's mission is to efficiently produce high-quality biologicals - generally proteins - ranging from milligrams to grams. These biologicals are used for basic research but also hold potential for pharmaceutical and industrial applications. Due to their expertise and state-of-the-art technology, the Core can offer an array of services. In addition to the fundamental cloning, production, and purification of biologicals, the Protein Core comprehensive service portfolio also includes research and consultancy, validation, stability testing, and upscaling.
Jurgen Haustraete has headed the Protein Core for the last 14 years. "We regularly scout new technologies and opportunities available on the market," says Jurgen. "This gives us a big competitive advantage and allows our work to be up there with the industrial standards."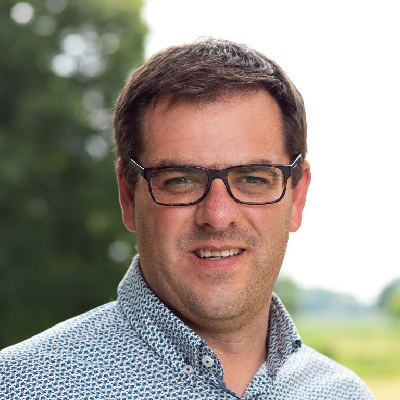 Greatness through collaboration
In 2019 an international evaluation board named the VIB Core Facilities program as one of the leading examples in Europe, and the Protein and Nanobody Cores definitely contributed to this excellence.
The two cores each possess their own unique areas of expertise, but they also have a synchronized partnership to produce Nanobodies. Upon receiving a request for Nanobodies, the Protein Core starts off the process by making antigens that are then delivered to the Nanobody Core. There, Reza's team generates and characterizes (affinity, stability, solubility, etc.) antigen-specific Nanobodies. A few top Nanobodies are selected and sent to the Protein Core, which assesses their expression in various model systems such as yeast and E. coli. Finally, Jurgen's team can produce and purify the Nanobodies on a large scale.
"Our efficient teamwork has already resulted in the development of hundreds of Nanobodies which have been used in numerous breakthrough publications and patents," according to Reza. "Our core facilities work together to produce the final product, which saves our clients time and resources, compared to when they have to involve multiple independent partners to get their final products."
"Our streamlined and evolved process is a great strength that enables us to deliver antibodies of the highest quality through our collaboration." - Jurgen Haustraete, Head of VIB Protein Core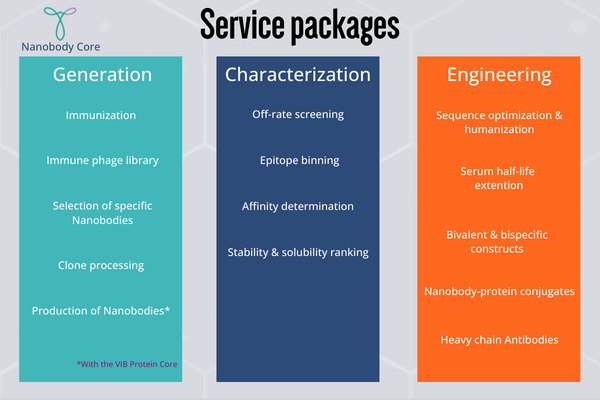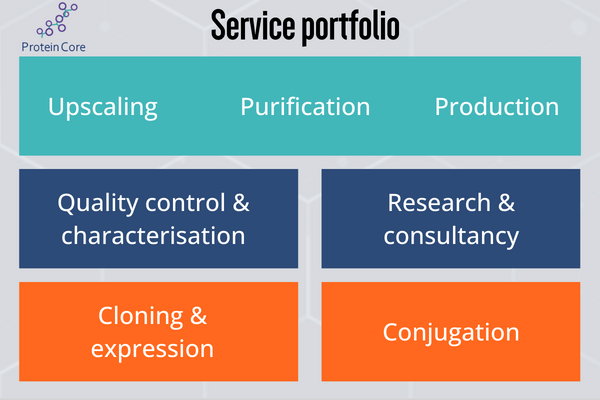 ---
Read more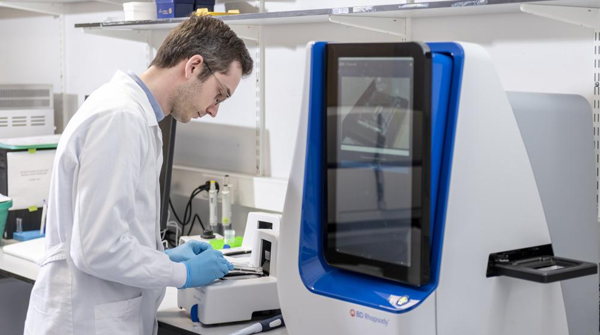 ---