VIB alumnus Rafael Van den Bergh bridges the implementation gap
On 13 October, Flemish minister of Innovation Hilde Crevits handed over the VIB Alumni Award for Societal Impact to Dr. Rafael Van den Bergh. The jury panel expressed their admiration for Rafael's work and commitment as a former field epidemiologist and implementation scientist at Médecins Sans Frontières and more recently as research coordinator for the WHO Attacks on Health Care Initiative.
February 17, 2022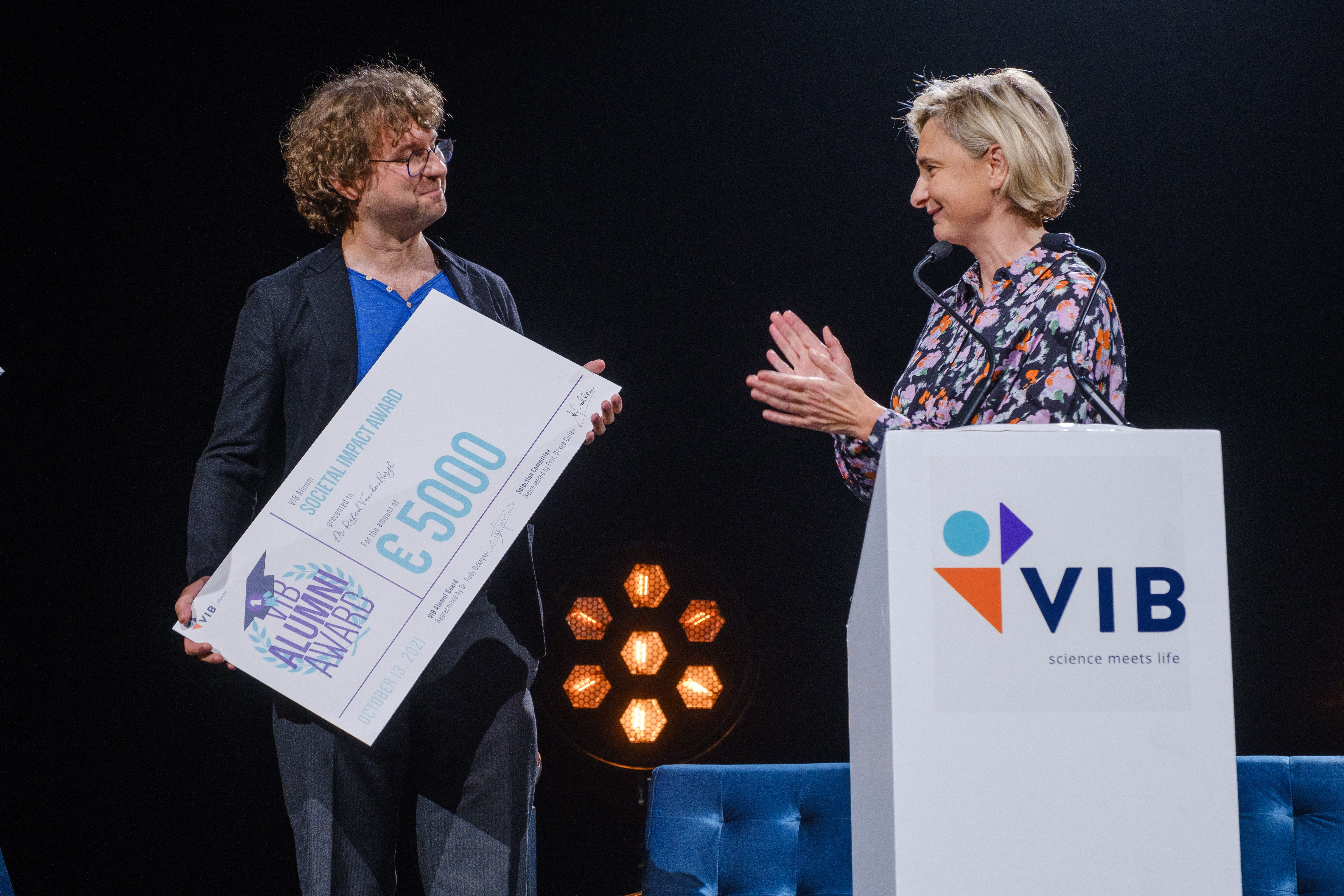 According to the jury report, 'Rafael has spent in the last 10 years more than 25% of his time abroad, in low-resource settings and countries in crisis with risk for his own life, showing his altruistic attitude. He is in that sense a role model and shows a high societal engagement.' ​
Rafael's career started in 2003 at VIB/VUB as PhD researcher in the labs of Profs. Jo Van Ginderachter and Patrick De Baetselier. In a collaborative project with the Virology Unit of the Institute of Tropical Medicine in Antwerp, he studied the molecular interaction between HIV and monocytes. ​
During a field visit in Uganda together with clinical coordinator Robert Colebunders, Rafael observed the immense gap between the available fundamental scientific and medical knowledge and the implementation of this knowledge in the field, especially in low-income countries and regions in humanitarian crisis or in conflict. Therefore, he joined the Operational Research Unit of MSF to put his scientific and epidemiologic knowledge to the service of humanity. ​
Research at Médecins Sans Frontières
"Often, we know through fundamental/clinal research which kind of care is needed. What we don't know is how to deliver this care. This is the so-called implementation gap. Médecins Sans Frontières addresses this gap by embedding operational research into its emergency and/or humanitarian interventions", explains Rafael. "This research is designed to assess and improve practices in health programs, to help health workers to find suitable practical solutions and to speak out about what we witness on the ground." ​
"What really excited me at Médecins Sans Frontières was the diversity of the research projects – I'm not an expert in anything, but a generalist in many things. Above all, I loved the direct and immediate impact of our research for patients, clinicians, and communities. We really made a difference." ​
Advocacy by publishing
In his capacity as field epidemiologist, Rafael Van den Bergh has led or supported research on the field across an array of health issues, including infectious diseases, mental health, environmental health, migration, torture rehabilitation, and many more. He authored or co-authored close to 140 papers in peer-reviewed journals.
Just to give a few examples: in 2014-2015, amidst the Ebola Virus Disease outbreak in West Africa, Rafael and an MSF team demonstrated the feasibility of introducing the Xpert Ebola Assay in Guinea in order to massively decrease the processing time and increase the sensitivity compared with routine diagnostic PCR procedures. The results were published in the journal Emerging Infectious Diseases. Xpert has become the standard diagnostic tool in Ebola outbreaks.
"Above all, I loved the direct and immediate impact of our research for patients, clinicians and communities. We really made a difference."
Another paper in International Health highlights the risks of unregulated usage of oxytocin and other labor-inducing medication in women giving birth in resource-constrained countries like Pakistan. "Poor training of nurses and midwives, combined with unregulated availability of labor-inducing medication, carries considerable risk for mother and child during birth", explains Rafael. "This paper warns local authorities and healthcare training institutes about the dangers of current health practices in their countries."
"Publishing in peer-reviewed journals tremendously increases the impact of our research", says Rafael. "Not only because other humanitarian organizations can learn from these experiences, but also in our advocacy work with governments and health authorities. A peer-reviewed publication is worth more than ten internal reports – it's largely a credibility issue." ​ ​
COVID support in Belgium
During the first COVID wave, Rafael also assisted as epidemiologist the Médecins Sans Frontièresinterventions in over 100 Belgian nursing homes for the elderly. Médecins Sans Frontières compiled its experiences in a highly mediatized report 'Overgelaten aan hun lot' ('Left to their fate'). Rafael co-authored a paper in Plos One emphasizing the massive impact on the mental well-being of the Belgian nursing home residents. Van den Bergh: "Residents expressed feelings of depression, anxiety, frustration as well as decreased meaning and quality of life. Staff felt completely unprepared for the challenges posed by the pandemic. Both the report and the paper are – hopefully - taken to heart by various Belgian authorities and health organizations in the pandemic."
Family man goes WHO
Rafael has a family in Belgium with two children. "Combining family life with being in the field for MSF became more and more difficult", adds Rafael, "therefore I switched to a coordinating research function at the WHO 'Attacks on Health Care Initiative'. In the first three quarters of 2021 alone, over 730 confirmed attacks on health care took place in emergency-affected countries and fragile settings. These attacks deprive people of urgently needed care, endanger health care providers and undermine health systems. Here too, operational research paves the way to better advocacy and improved protection and mitigation strategies on the ground."
---
Want to learn more about Rafael Van den Bergh's work?